Getting to Emerald Island
DRIVING DIRECTIONS
When you pick up your car at the airport, remember these things:
Pick up a map on your arrival (usually given one on collection of car from the hire company).
Familiarise yourself with your vehicle, which will usually have an automatic gearbox.
Tuck your left leg back towards your seat and away from the pedals if you are not used to driving automatics.
Make sure you have change for toll roads (at tolls, use green lane marked "change & receipts").
Overtaking is allowed on the nearside or offside.
Road signs are different to the UK (situated at the junction, not before it).
Speed limit on Interstate is 70 mph.
Otherwise the speed limit will be sign posted.
For Car Hire click here.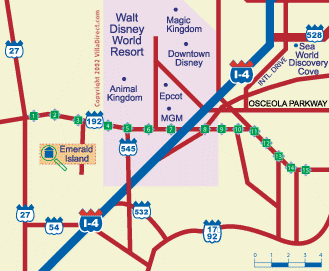 FROM ORLANDO INTERNATIONAL AIRPORT
Take the South exit. 417 Toll road. Sign says 'Kissimmee Disney 417 Toll'. Keep to your right hand lane at all times.
Next sign 'South 417 Walt Disney World'.
Turn right before the lights. You are now going south on the 417 toll road. You will need approx $4.50 for tolls.
On the 417 keep going straight on.
Do not leave until you reach exit 2, which is 'Celebration Ave 192'.
Through the toll, pay 50 cents. Get into far right hand lane, which is for '192 East/West'.
Onto Celebration Ave, take middle lane for '192' then move to left lane.
Take '192 West' at lights.
Keep following the signs for '192 West'. You will see marker posts every mile on the side of the road.
After marker 5 turn left at the lights onto Formosa Gardens Blvd.
Go straight on until you reach a 4 way stop sign, turn right onto Funnie Steed Road and follow the road until you come to the Emerald Island entrance.
Turn left to the gate house, and after half a mile you will reach the gate house.
First right at dolphins then first right and first left on to Lido Key Drive.